Key takeaways
The number of subscribers grew by 7.66 million in the fourth quarter, well above what analysts were expecting (4.57 million). The strong growth is already a confirmation of the earlier third quarter where the company was able to return to growth after a weak 1st and 2nd quarter. This brought the total number of subscribers to 231 million by the end of December.

Revenue was in line with expectations, coming in at $7.85B (+1.9%). Analysts had forecast revenue of $7.97B.

Earnings per share were remarkably lower (12cents vs. 45cents per share). According to Netflix, an accounting loss of $462 million due to the depreciation of the U.S. dollar vs. the euro.

The company also announced that Reed Hastings, co-founder, will no longer stay on as CEO. He will be replaced by Greg Peters. Hastings himself will become executive chairman.
Netflix remained remarkably vague about its new advertising subscription, which only launched in November. That subscription is significantly cheaper but in exchange users will be shown ads. However, it did not disclose the number of new subscribers who have already taken advantage of this new advertising subscription. The company only announces "that it is satisfied with the progress made and that the cheaper formula will boost subscriber growth". On the positive side, few existing premium subscribers are switching to the cheaper formula.


Outlook
Netflix will no longer give indications on the number of subscribers. Keeping in mind the new ad-subscription format, the focus will be more on pure revenue rather than on membership growth.
For the first quarter of 2023, the company forecasts revenue growth of 4%, due in part to more paid memberships and more money per paid membership. Still in the first quarter, Netflix will launch the subprogram that allows additional (paying) users to be added to existing accounts. It is expected that a portion of viewers who previously watched for "free" will drop out but still Netflix assumes what was previously observed in Latin America. It was found that some of the initial co-users did sign up for their own accounts after all.
Netflix currently has $6 billion in cash on its balance sheet. Free cash flow for 2022 comes to $1.6 billion. For 2023, it is projected at $3 billion and that figure is likely to exceed $4 billion in 2024.
The majority of it will traditionally be used to reinvest in core businesses and for targeted acquisitions. In addition to the minimum cash held, the rest of the free cash flow will be used to repurchase its own shares.

Netflix (NFLX) Q4 2022 Earnings Call Transcript by Fool.com


Technical
After-hours, Netflix's share price rose more than 7%.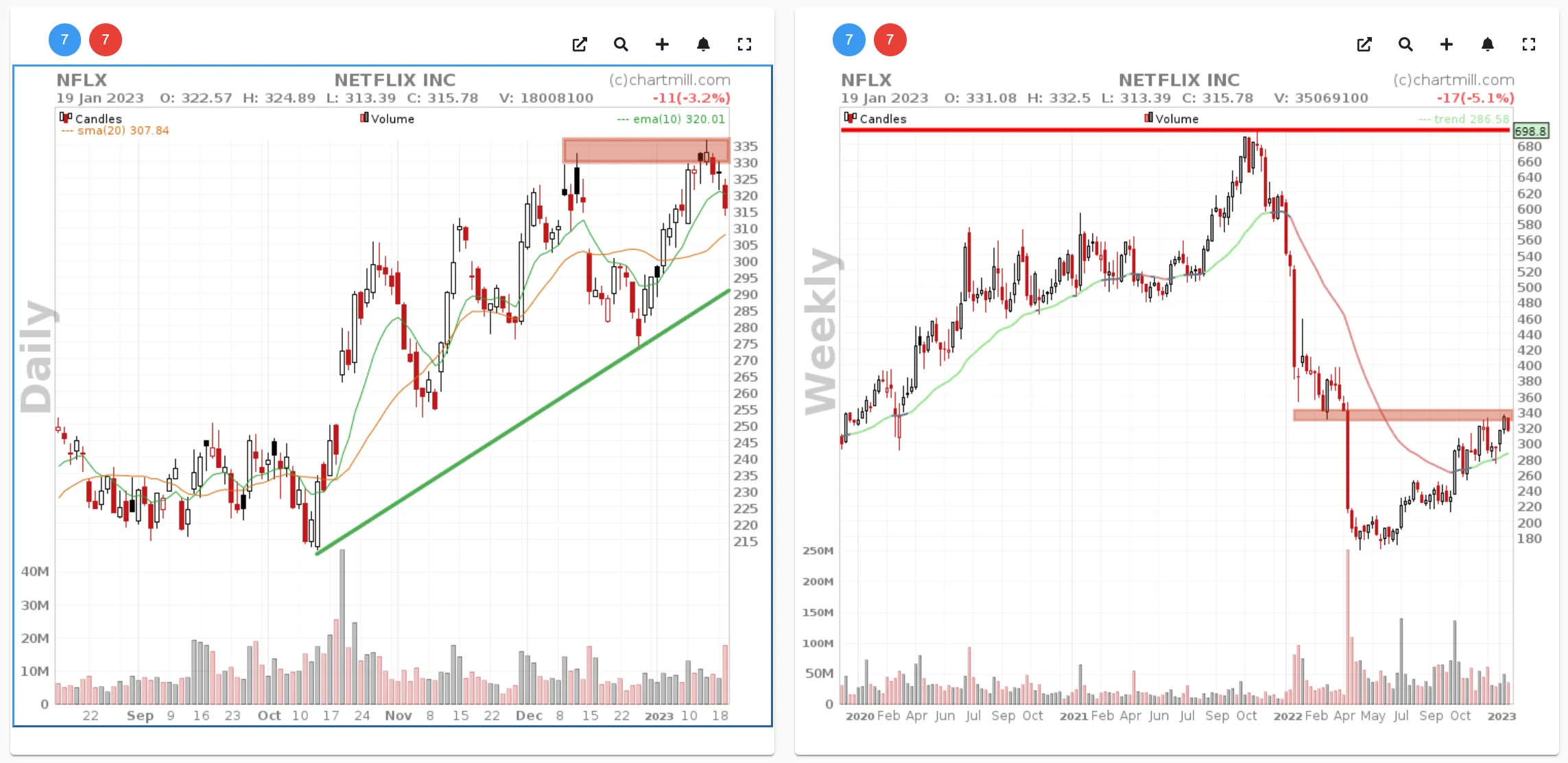 Since November 14, the long-term trend has changed from neutral to positive (according to our ChartMill Trend indicator, visible on the weekly chart on the right). Price is currently trading near the resistance zone located between $335 and $340. It looks like Netflix's share price will open higher. Technically, the stock is buy-worthy above $335. In that case, short-term traders can apply a stoploss below the $315 level. More defensive long-term investors can maintain the stoploss below the current swing low at $273.41.