In this article we will discuss the large players buy screen. Also check out the General Trading Tips, which gives some general pointers.
This screen only has 2 filters:
A minimum average volume of at least 1 million
A 5DER or Daily Effective Ratio 5 Day Average above 4%
The minimum volume requirement is set because the underlying indicator (Effective Volume) will be less accurate for stocks trading low average volumes. You can find an introduction on Effective Volume here, but in this article we will go a bit deeper into its practical usage.
Effective Volume and Effective Ratio.
As the only real indicator used in this screen is the Effective Ratio, a good understanding of Effective Volume (EV) and Effective Ratio (DER) is a must. The articles below should provide some basic insights:
The screen
The screen uses the 'Large Effective Ratio' to determine an increasing LEV line. The condition '5DER > 4%' implies that the Daily Large Effective Volume number is positive and above 4% of the total daily volume on average in the last 5 days.
As this screen does not contain any other filters, it will display all stocks showing decent accumulation. It is up to the user to filter out those stocks that also form bases or declines manually. This screen could easily be combined with other filters filtering for base formations or price stability.
Some example results.
To bring this into practice, we will discuss some of the results we are getting when running the screen at the day of writing this article.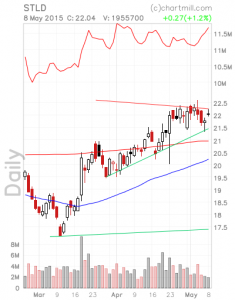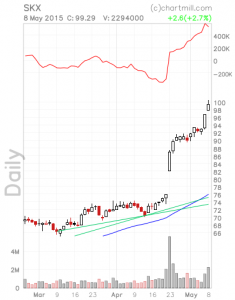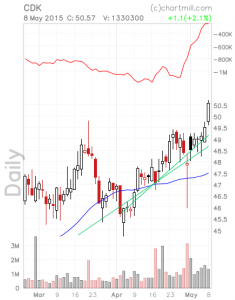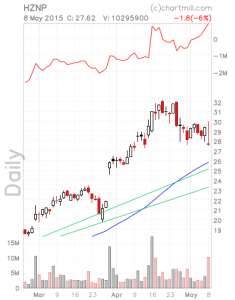 Lets discuss each of these in some more detail:
STLD: This is still inside a base formation, but we see large players have been buyers in the last couple of days. A potential strategy would be to place a buy stop order around 22.5
SKX: clearly, the breakout already happened, so this is no longer a valid setup. We selected this for pointing out the clear accumulation while the stock was still inside its based. (The base between 90 and 92). So in this case EV was a good predictor of the future direction of the move. Also note that before the gap, precisely the opposite was taking place: while the stock was rising, large players were selling.
CDK: same story here. This also had a breakout, but in the base before the breakout we say Large Players accumulating strongly.
HZNP: A similar story here. The stock is pulling back. We even saw a -6% day in the last day, but large players are buying this. A potential strategy would be to buy when price breaks the 30 level again. Because the 30 level is still somewhat away it could be bought earlier on signs of recovery, which would make a tighter stop possible.
Tuning the screen
As this screen only checks for the large players buying and we are manually filtering for base patterns it does make sense to add some filters so that we only get results which are actually consolidating. There are many options to do this, we will just mention a couple: