About a week ago I wrote an article about the "Red Dog Reversal" strategy - direct link. This intraday trading strategy focuses on stocks that are showing signs of a price extreme. Since a price extreme is by definition always temporary, this strategy tries to anticipate a sharp counter move which will bring the price back into more of a balance.
Last Friday, December 17, there were several stocks where this strategy led to very good results. Volatile market conditions are of course the ideal environment for such a strategy. So let's take a closer look at some of these typical plays. These are all examples that perfectly illustrate the conditions a setup must meet.
Coca Cola (NYSE: KO)
Daily chart KO, december 16, 2021
Coca Cola staged a strong rally since early December with a price gain of more than 12%. There was a small pause at the 20SMA, but then the price rose sharply with a few successive gap ups until Thursday 16 December when the price closed just below $59. The closing price was considerably far away from the 20SMA. The rally and the closing price relative to the 20-day moving average was a clear example of a price extreme.
Such setups end up in the shortlist for the next trading day.
2M chart KO, december 17, 2021
High of Day - december 16, 2021
Opening - december 17, 2021
Price breakout above previous HOD
Closing price - december 17, 2021
A possible first entry based on this 2M chart was at point 'a'. Initially the price seemed to fall through but eventually a double top was formed and this position would have been stopped out. A second entry after the double top was at point 'b' which was successful. Finally, for the more defensive traders, there was point 'c', the price level at which the double top was confirmed and the bottom of the mini range during the formation of the double top was broken downwards.
(The exact entry rules can be found in this first article)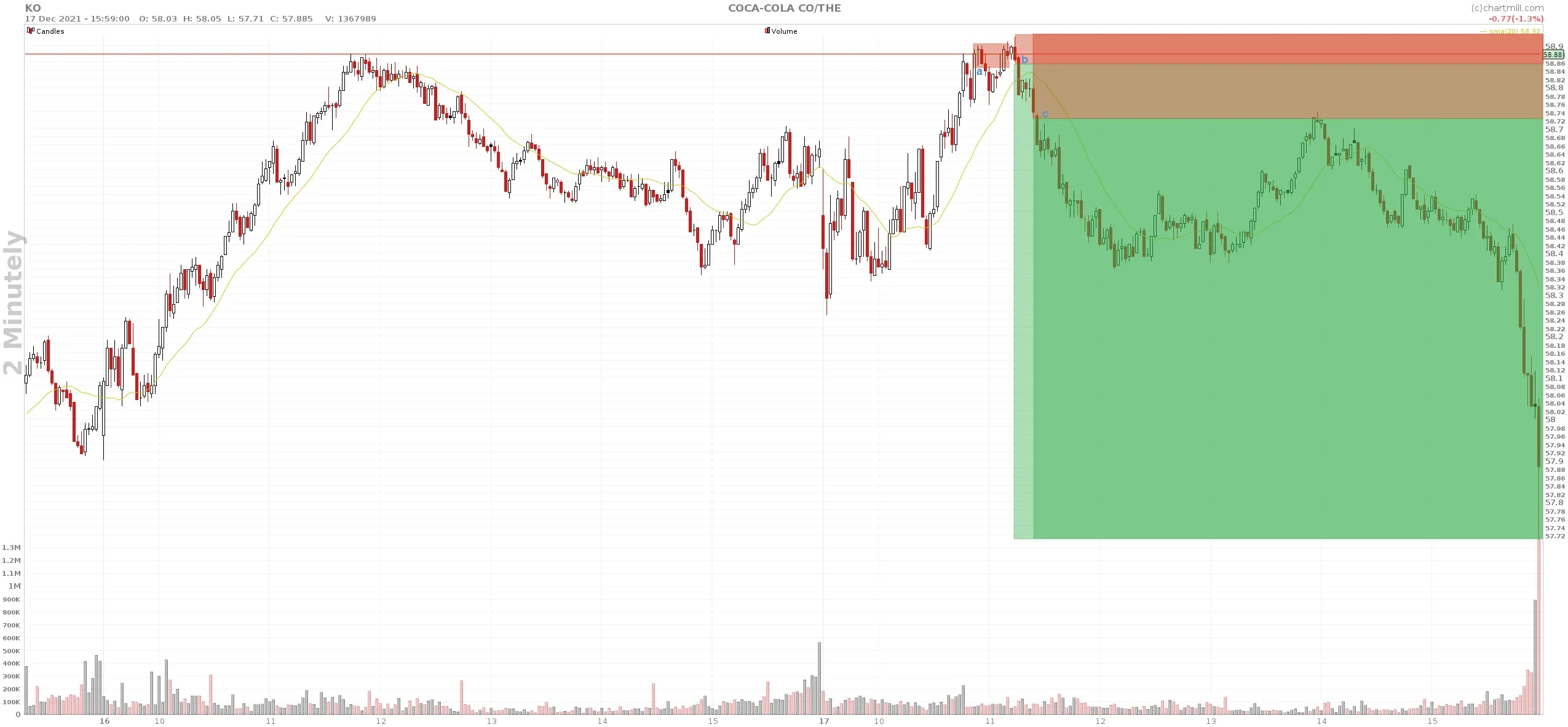 Trade 'a' = loss of -1R
Trade 'b' : potential profit of +11R (based on the lowest intra-day price)
Trade 'c' : potential profit of +5R (based on the lowest daily price)
Here are a few other stocks from that same day:
Procter and Gamble (NYSE: PG)
Daily chart PG, december 16, 2021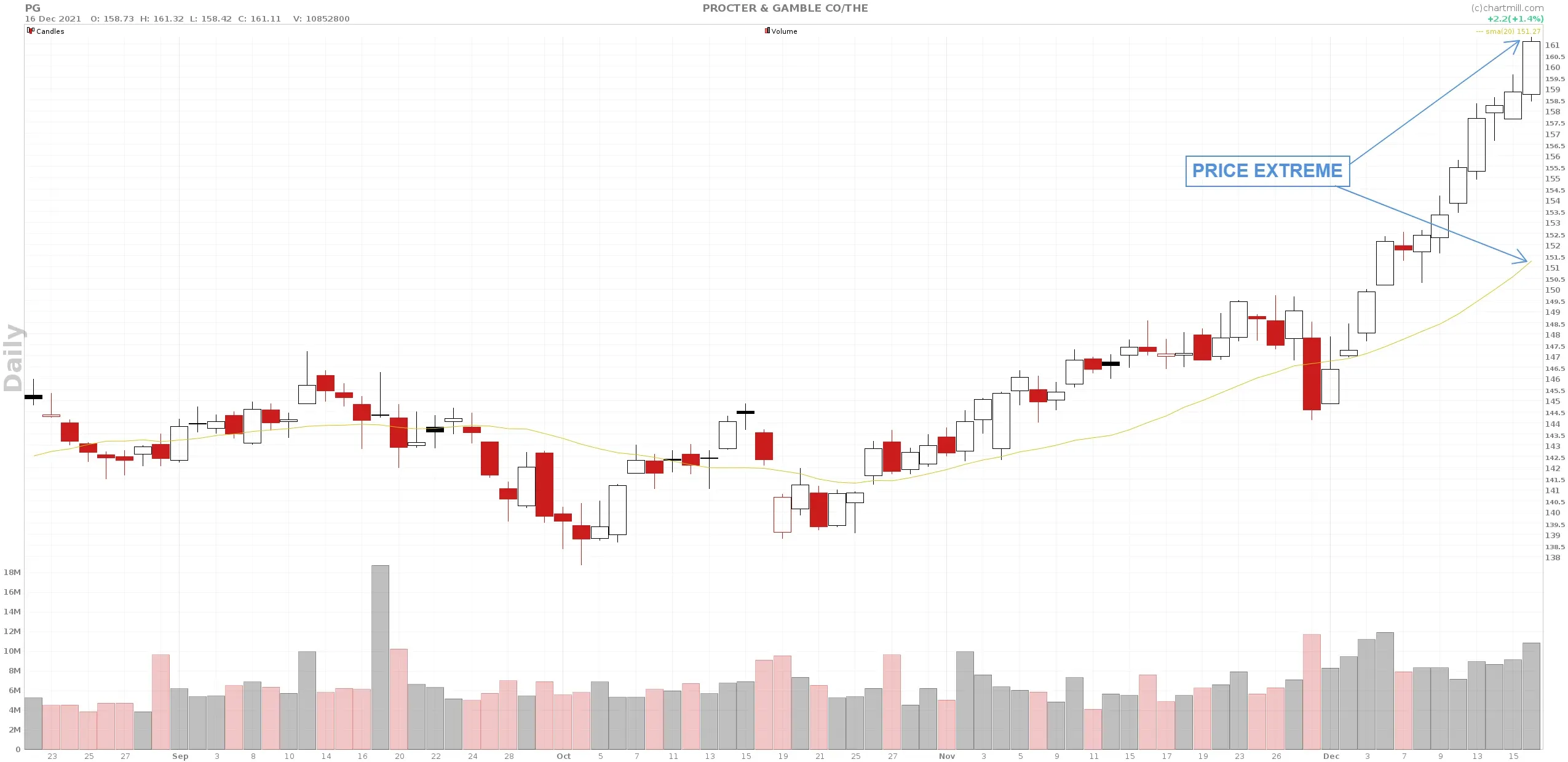 2M chart PG, december 17, 2021
High of Day - december 16, 2021
Opening - december 17, 2021
Price breakout above previous HOD
Closing price - december 17, 2021
Church and Dwight (NYSE: CHD)
Daily chart CHD, december 16, 2021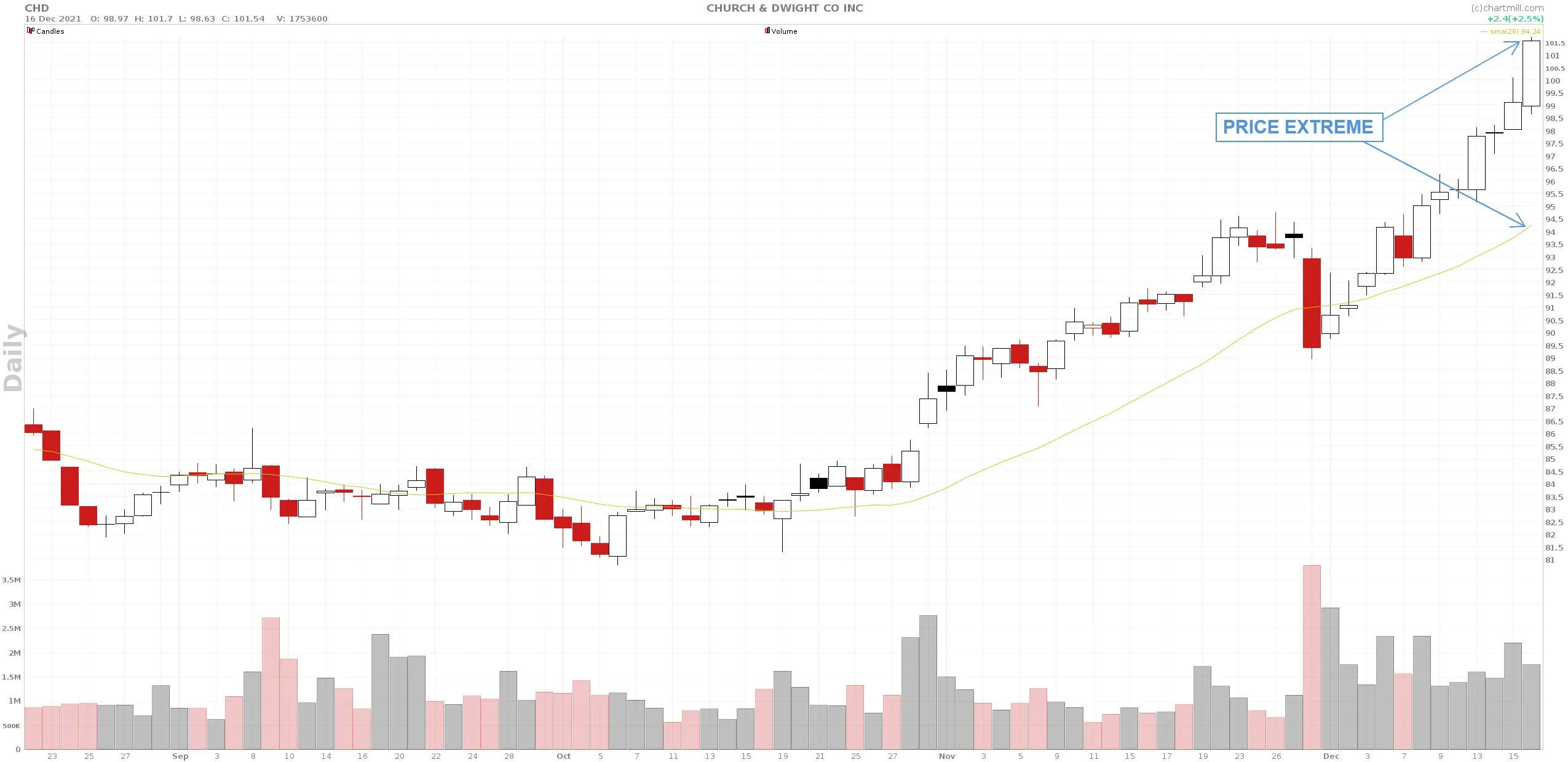 2M chart CHD, december 17, 2021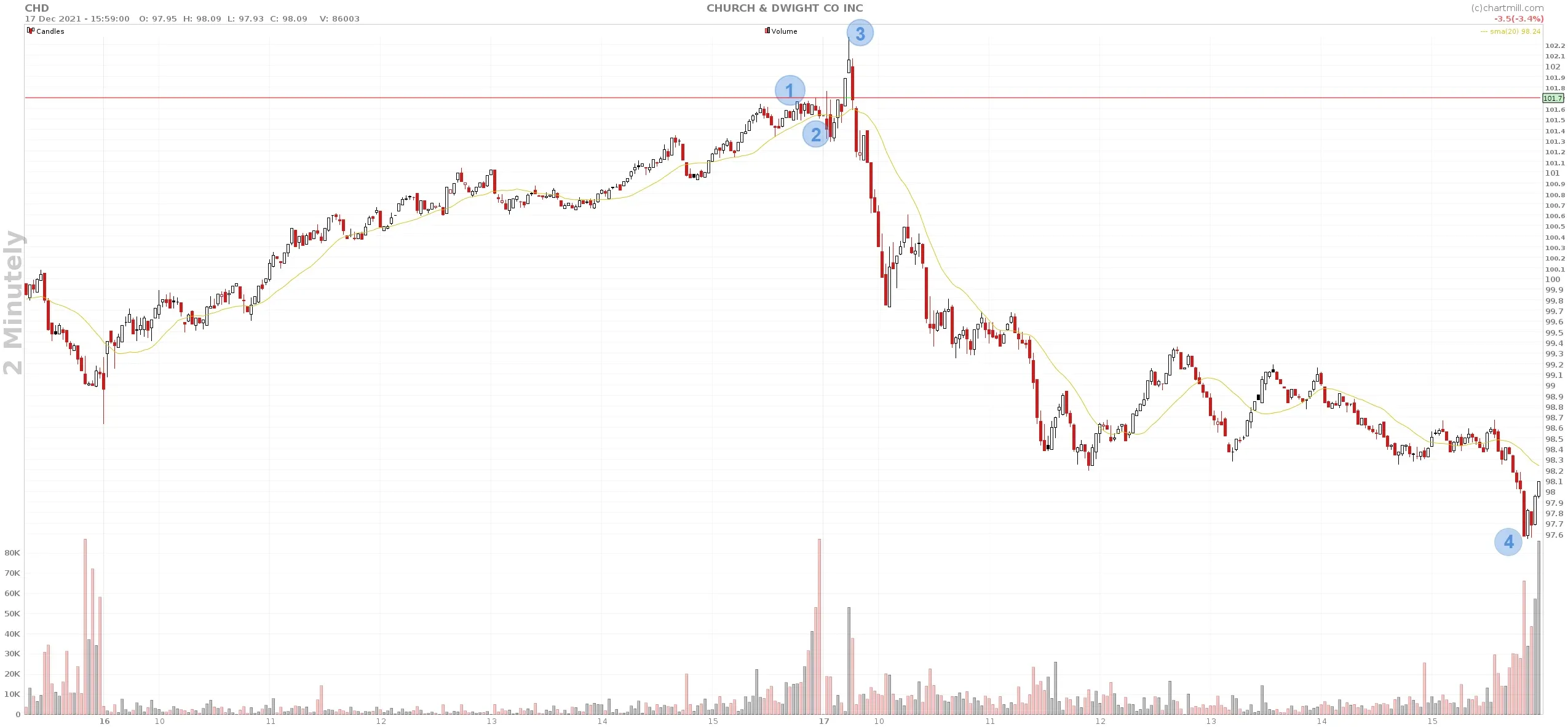 One of the strengths of the Red Dog Reversal strategy is its win/loss ratio. One good trade like the one in Coca Cola last Friday - on which profits between 5 and 10R are possible - can make the difference in the long run.

Just like with any other strategies loss positions cannot be avoided and that's not a problem at all if you have a few such big winners in your portfolio. The most important thing (and also the most difficult one) is to keep positions open until the end of the trading day, only in this way you can take full advantage of a typical trend day where the price of a stock, once having chosen a direction, continues in the same direction until the end of the day. Taking profits or securing them at 2R or 3R is tempting but keep in mind that in that case you will miss the rarer bigger moves anyway. And just those might make the difference between being profitable or not with this kind of trading. (Forward) testing is therefore essential!

As always, trade safe!



**Questions or comments about this article? Contact us using the contact button on the bottom left of your screen!** **If you enjoyed reading this article, be sure to follow us on Facebook so you can stay updated on future articles.** **Curious about our daily ChartMill trading setups? Be sure to follow us on Instagram.**