GARMIN LTD.
Garmin, founded in 1991, is one of the largest manufacturers of GPS equipment in the world. But where the company gained its name and fame because of the pure GPS equipment, it has now grown into a global player in a much larger market than could ever have been suspected at the time...
Especially the wearables for numerous sports have become enormously popular these days and where once the emphasis was almost exclusively on functionality, nowadays at least as much attention is paid to the trendy and fashion content of the product line. Otherwise, just surf to the Garmin website. Gone are the typical and not very sexy GPS devices, you are immediately seduced by beautifully designed smart watches around the wrists of good looking sporty men and women.
The website lists no less than 6 different segments with specific products :
Wearables
Automotive
Sport and Fitness
Outdoor Leisure
Marine
Aviation
Garmin's product catalog is now represented on land, at sea and in the air, and where previously the automotive sector accounted for the lion's share of sales, Garmin has managed to turn the corner, so that the fitness and outdoor sector now accounts for almost half of total sales.


Garmin reported record operating income of $1.22 billion, up 16% over 2020. GAAP EPS was $5.61 and pro forma EPS(1) was $5.82, representing 13% growth over the prior year pro forma EPS. For detailed information about the full-year and fourth quarter 2021 results, you may read the full press release here.


Profitability
GRMN has a Profit Margin of 21.72%. This is amongst the best returns in the industry. The industry average is 6.69%. GRMN outperforms 94% of its industry peers.
GRMN has a Return On Equity of 17.70%. This is comparable to the industry average of 19.80%.


Valuation
With a Price/Earning Ratio of 20.55, GRMN is valued rather expensive. 82% of the companies listed in the same industry are cheaper than GRMN (P/E industry average is at 9.04)


Growth
Measured over the past 5 years, the company's EPS growth was 15,43% average per year which is quite strong and it is expected to grow by 10.96% on average over the next 5 year.
The Revenue growth is stable: in the next 5 years the growth will be about the same as in the last 5 years which was 10.35%.



Financial Health
Both Quick ratio (2.10) and Current Ratio (2.94) are much better than the industry average, respectively 1.94 and 1.00.
GRMN has an Altman-Z score of 10.30 (this is a numerical measurement that is used to predict the chances of a business going bankrupt in the next two years) which is much better than the industry average of 3.02.


Dividend
A dividend has been payed for at least 10 years with an annual average growth of 7.65%. With a yearly Dividend Yield of 2.61% the company pays a bit more dividend than the S&P500 average (2.08%).
Approximately 45% of its income is payed as a dividend

- Take a look at the full fundamental report by ChartMIll


Just over 6 months ago, Garmin was trading at a price well above $175. Since then, the price has plummeted to +/- $106.5, a drop of nearly 40% in a span of just 6 months. Garmin recovered sharply last week, on Friday price quoted 8.9% higher than at the beginning of the week. For a similarly strong rise (+10%), we have to return to the week of November 2, 2020. The rise back then happened with a lot of volume and considerable momentum and broke through the resistance level at $105 that was in place until then.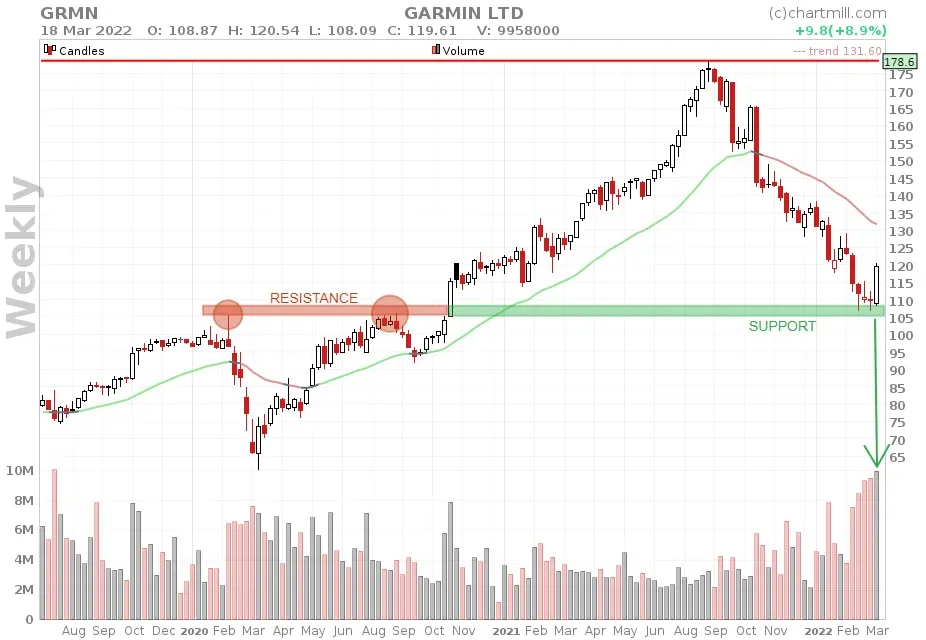 Technical traders seem to have taken advantage of the current price drop to the earlier breakout level to pick up the stock again, and they may well be right at these price levels. The solid price decline seems excessive when compared to the recent quarterly and annual results. The company has a very strong and differentiated product line and continues to focus on innovation. The current market conditions are of course far from ideal, price movements are (very) volatile and thus not very predictable. Further price declines due to a possible worsening of geopolitical tensions can therefore not be excluded.
But with an expected average growth of more than 10% for the next 5 years, combined with a reasonable dividend yield of 2.61%, the current price level undoubtedly offers opportunities for the long-term investor.


*This Content is for informational purposes only, you should not construe any such information or other material as legal, tax, investment, financial, or other advice. Read our full Disclaimer.