Our stock screener has spotted ENTERPRISE PRODUCTS PARTNERS (NYSE:EPD) as a possible breakout candidate. A technical breakout setup pattern occurs when the stock is consolidating after a nice uptrend. Whether the actual breakout occurs remains to be seen of course, but it may be interesting to keep an eye on NYSE:EPD.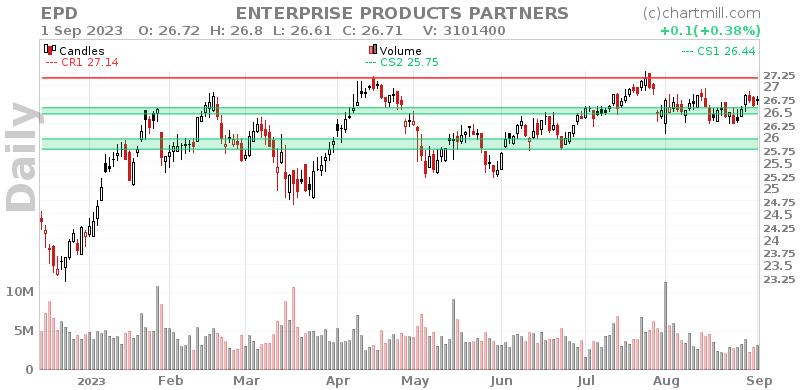 Technical analysis of NYSE:EPD
Every day, ChartMill assigns a Technical Rating to each stock, providing a score ranging from 0 to 10. This rating is determined by evaluating various technical indicators and properties.
Overall EPD gets a technical rating of 7 out of 10. This is due to a decent performance in both the short and medium term time frames. Compared to the overall market, EPD is only an average performer.
Both the short term and long term trends are positive. This is a very positive sign.
EPD is currently trading in the upper part of its 52 week range. The S&P500 Index however is currently trading near a new high, so EPD is lagging the market slightly.
When comparing the performance of all stocks over the past year, EPD turns out to be only a medium performer in the overall market: it outperformed 54% of all stocks.
EPD is an average performer in the Oil, Gas & Consumable Fuels industry, it outperforms 41% of 217 stocks in the same industry.
In the last month EPD has a been trading in a tight range between 26.24 and 26.95.
For an up to date full technical analysis you can check the technical report of EPD
How does the Setup look for NYSE:EPD
Besides the Technical Rating, ChartMill assigns a Setup Rating to every stock to determine the degree of consolidation. This rating, ranging from 0 to 10, is updated daily and evaluates various short-term technical indicators. NYSE:EPD currently holds a 9 as its setup rating, suggesting a particular level of consolidation in the stock.
Besides having an excellent technical rating, EPD also presents a decent setup pattern. Prices have been consolidating lately and the volatility has been reduced. There is a resistance zone just above the current price starting at 27.14. Right above this resistance zone may be a good entry point. There is a support zone below the current price at 26.56, a Stop Loss order could be placed below this zone. Another positive sign is the recent Pocket Pivot signal.
How to trade NYSE:EPD?
One strategy to consider is waiting for the actual breakout to occur, where the stock breaks out above the current consolidation zone. Traders can then enter a buy position, anticipating further upward momentum. As a risk management measure, it is advisable to set a stop loss order below the consolidation zone.
Please note that this article should not be construed as trading advice. The information provided is solely based on automated technical analysis and serves to highlight technical observations. It is important to conduct your own analysis and make trading decisions based on your own judgment and responsibility.
More breakout setups can be found in our Breakout screener.
Disclaimer
Important Note: The content of this article is not intended as trading advice. It is essential to perform your own analysis and exercise caution when making trading decisions. The article presents observations created by automated analysis but does not guarantee any trading or investment outcomes. Always trade responsibly and make independent judgments.