These three stocks (SWAV, ARES, ACRS) are absolutely worth keeping an eye on today for a potential recovery move, based on the following elements:
The base screen used to identify these stocks is part of a mean reversion trading strategy, intended for active technical investors engaged in swing or day trading.


[Shockwave Medical, Inc. operates as a medical device company, which focuses on developing and commercializing products intended to transform the way calcified cardiovascular disease is treated. The stock has fallen sharply and is now trading more than 25% lower since its most recent top of April 12, 2022. The stock currently finds itself in a support zone and rose more than 4.5% yesterday. The 2-period RSI indicated that the stock was heavily oversold (<10) and meanwhile recovered to +30.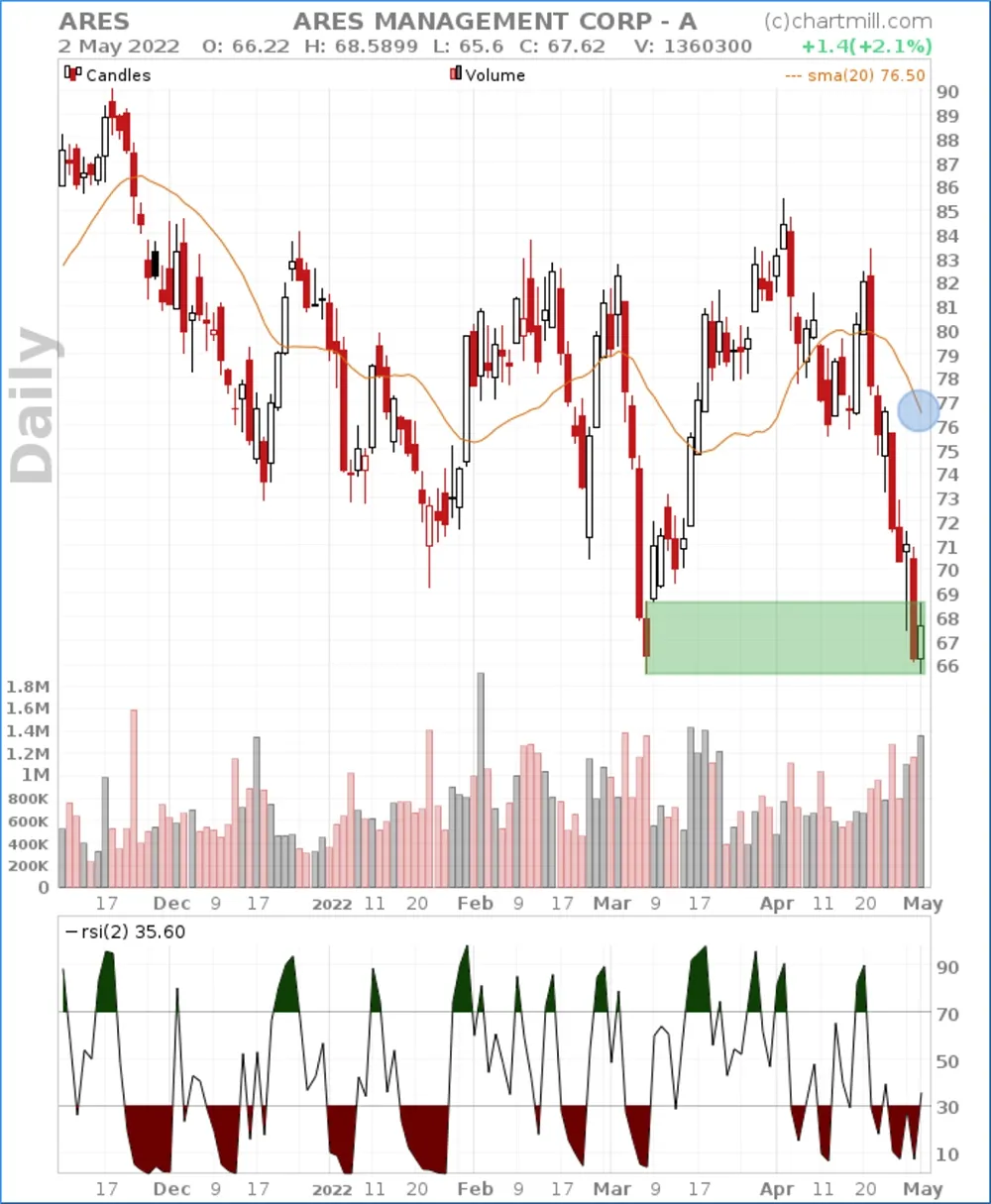 Ares Management Corp. is engaged in providing investment management and consultancy services. The firm operates through five segments: Credit Group, Private Equity Group, Real Estate Group, Secondary Solutions Group and Strategic Initiatives. The price is quoting at about the same level of 08 March, possibly a double bottom will form from this point with a recovery move towards the descending SMA20. The RSI(2) indicator rebounds from heavy oversold territory.


ACLARIS THERAPEUTICS (NASDAQ:ACRS)
Aclaris Therapeutics, Inc. operates as a dermatologist-led biopharmaceutical company, which engages in identifying, developing, and commercializing novel drugs to address the needs in medical and aesthetic dermatology and immunology. As with ARES, this stock is also a victim of the general market sentiment resulting in a severe price decline. The price has deviated far from the SMA20 and the RSI(2) indicator has risen above the 50 level with yesterday's price increase. From this level, there is a chance that the stock may recover somewhat to its 20-day average price.

The ChartMill Team






Disclaimer: These trading ideas are merely to demonstrate what ChartMill is capable of and shows some typical results of a breakout filter. It is in no way actual financial advise to invest or trade in these stocks. The author has no pre-existing position in any of these stocks.