THE GOLDEN/DEATH CROSS SCREENING OPTIONS
In this article, we go over the screen options for filtering stocks based on the appearance of a Golden or Death Cross. We will also show you how to save these settings as a screen in your account so you can access the screen later with a single click.
Not sure yet what we mean by the Golden or Death Cross? Be sure to read this basic article first.
Both the Golden and Death Cross are signals that occur based on a crossing between the 50-day and 200-day averages. In the case of the Golden Cross, the 50-day average cuts the 200-day average upward, and in the case of a Death Cross, the 50SMA cuts the 200SMA downward.
In this article, we show you how to filter stocks in Chartmill based on these specific crossings. First, on the home page in the main menu, select the stockscreener tab to go to the stockscreening page.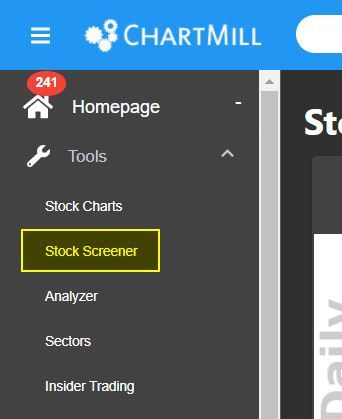 Once on the Stock Screener page, select the 'Performance' tab.
We start with the Golden Cross, the settings for it are defined using the 'SMA50' tab.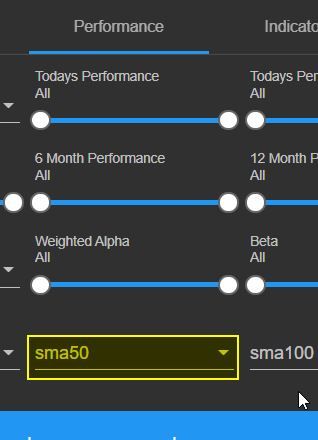 Click on the inverted triangle and then select the following two options in the same menu: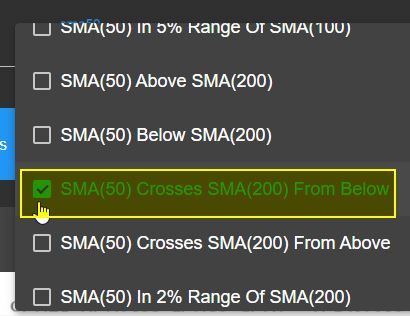 We have now defined that the 50-day average must be bullish and that the SMA50 must cross the SMA200 from bottom to top. By doing so we have defined the conditions for the Golden Cross.
We alter the settings for the Death Cross in a slight different way. Again via the SMA50 tab where the following two options are selected: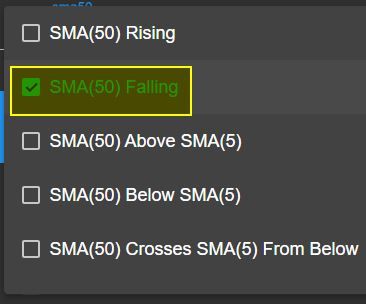 Via the 'General' tab you can further refine the screen if desired. In the example below, the following filters were used:
only US stocks minimum price of $5 minimum volume of 500,000
The Golden and Death Cross filters combined with the basic settings give the following results:
Golden Cross, US-aandelen, minimum $5, minimumvolume 500.000 and Death Cross, US-aandelen, minimum $5, minimumvolume 500.000
To save your screen so you can easily recall it later do the following: Select the floppy disk icon in the upper right corner of the stockscreener.
Give your screen a suitable name, for example "Golden Cross - US" and then save your screen.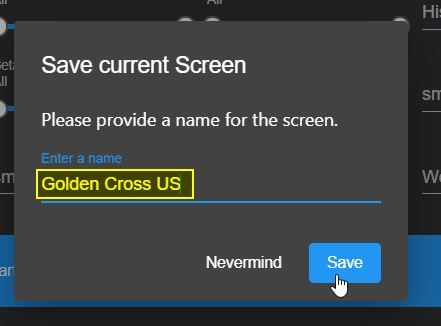 If you want to recall this screen at any time, all you have to do is press the map icon in the stockscreener and select the saved screen from your list.
By the way, under the 'Trading Ideas' tab in the main menu, there is also a Golden Cross screen available. You can use this screen as a basis and refine it with additional technical or even fundamental filters.