TRADING IDEA (Momentum Breakout)
Americold Realty Trust Inc. is a real estate investment trust, which focuses on the ownership, operation, development, and acquisition of temperature-controlled warehouses. Read the full profile here.


STRATEGY
Momentum Breakout Setup (Short term)
clean breakout during last trading session (+2.8%)
increased buying volume
closing price higher than $30.77 (latest resistance)
first higher low and second higher high on the weekly chart

Last earnings: 2022-05-05
Next earnings: 2022-08-03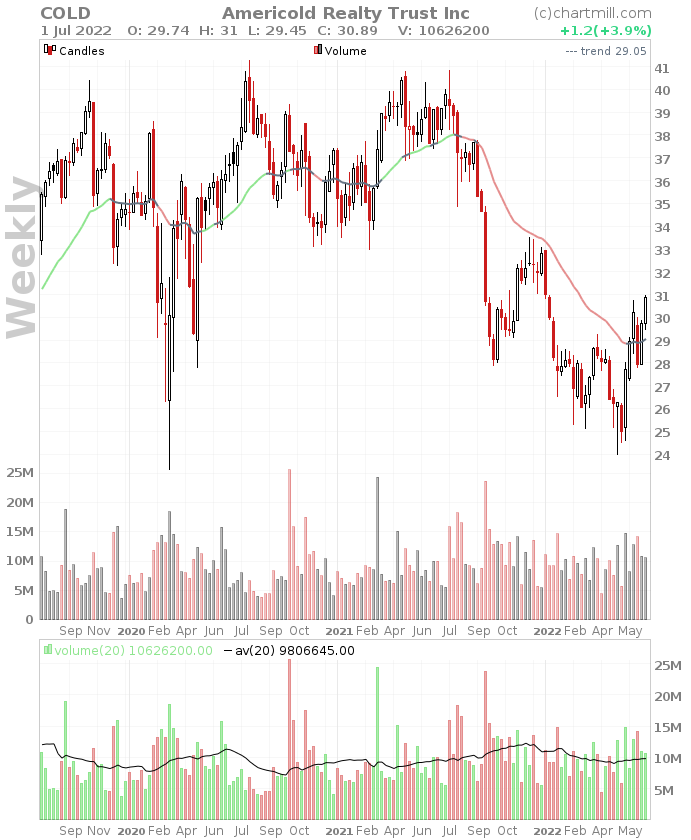 ACTUAL SETUP
Buy Stop | $31.06
Limit | $31.16
Stoploss | $29.44
Target | Hold between 2 - 5 days


ADDITIONAL INFO/TIPS
Disclaimer: These trading ideas are merely to demonstrate what ChartMill is capable of and shows some typical results of a breakout filter. It is in no way actual financial advise to invest or trade in these stocks. The author has no pre-existing position in any of these stocks.