FIRST THIS...
Our last two breakout momentum ideas (AIR and UNM) were not triggered because we use limit orders to enter the market. The stock price must first rise above the high of the breakout candle. This prevented us from taking a loss for both setups.

Since then, it's been a while since we've shared a trade setup, but that's entirely due to current market conditions!

One of the great benefits of using a decent stock screener is that it stops giving setups when the market environment is changing. And that is exactly what has happened in the last few weeks/months.

In a severe declining market, there are hardly quality breakout setups to trade, so nothing happens. Or maybe it does..... Where others lost money, the screener told me to wait and sit tight. Making money in the stock market is one thing... Making sure you don't give it all back is at least as important!

That said; today the screener did spot a very nice breakout setup although a warning is in order... The general market sentiment is still highly negative. So be extremely careful!


TRADING IDEA (Momentum Breakout)
BELLUS Health Inc. is a clinical-stage biopharmaceutical company developing novel therapeutics for the treatment of cough hypersensitivity and other hypersensitization disorders. The company is headquartered in Laval, Quebec and currently employs 40 full-time employees. Read the full profile here.


STRATEGY
Momentum Breakout Setup (Short term)
Massive breakout during last trading session (+9%)
heavily increased buying volume
Retesting resistance for the fifth time (+/-$9)

Last earnings: 2022-05-11
Next earnings: 2022-08-09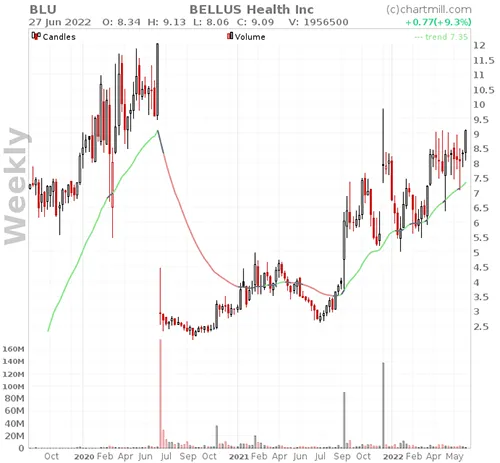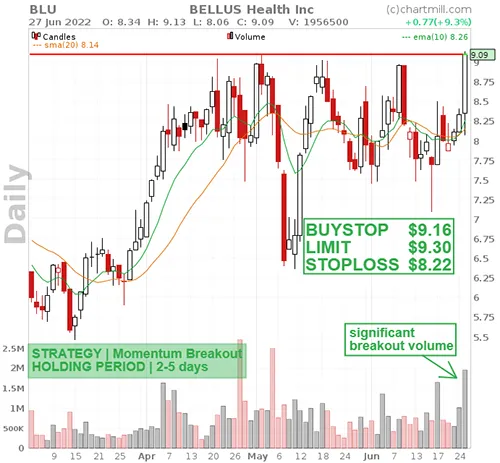 ACTUAL SETUP
Buy Stop | $9.16
Limit | $9.30
Stoploss | $8.22
Target | Hold between 2 - 5 days


ADDITIONAL INFO/TIPS
Disclaimer: These trading ideas are merely to demonstrate what ChartMill is capable of and shows some typical results of a breakout filter. It is in no way actual financial advise to invest or trade in these stocks. The author has no pre-existing position in any of these stocks.