TRADING IDEA
VICI Properties, Inc. is a real estate investment trust, which owns, acquires and develops gaming, hospitality and entertainment properties... Read the full profile here.
STRATEGY
Momentum Breakout Setup (Short term)
strong increase during last trading session (+3.5%)
impressive buying volume
closing price higher than $30.5 (current resistance)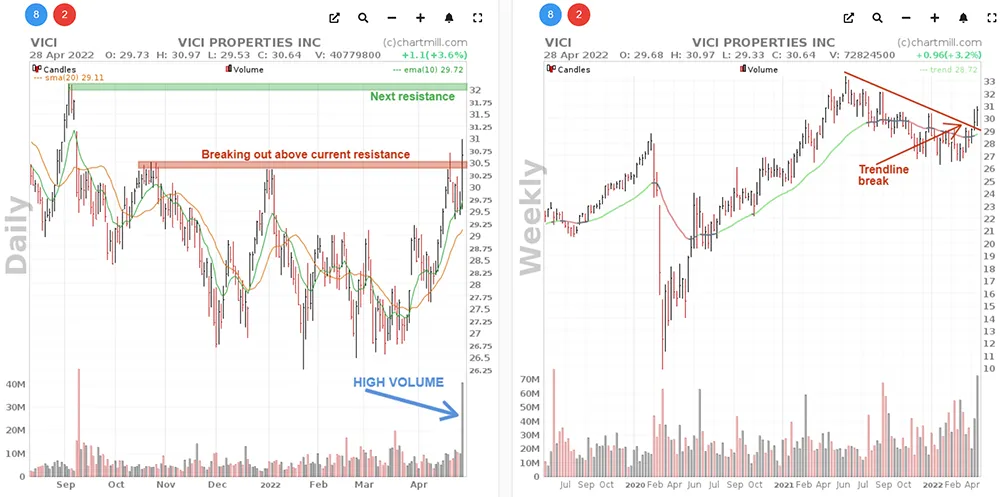 ACTUAL SETUP
Buy Stop | $31.04
Limit | $31.10
Stoploss | $29.49 (below last bar)
Target | Hold between 2 - 5 days or next target (+/- $32)
STOCK SCREENING SETTINGS
Through this link you can check the other stocks that were also withheld with the same screen filter (28/04/2022- EOD).
ADDITIONAL INFO/TIPS
Please be aware that VICI Properties announces quarterly earnings on date of 2022-05-04 (after market close)!
Use our ChartMill Postion Sizing Tool to calculate the maximum number of shares you can buy, depending on your available capital!
Disclaimer: These trading ideas are merely to demonstrate what ChartMill is capable of and shows some typical results of a breakout filter. It is in no way actual financial advise to invest or trade in these stocks. The author has no pre-existing position in any of these stocks.