Fundamental screening: filter documentation – Part 3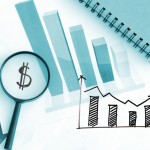 Have you missed the previous parts? : Part I and Part II.
Part III continues with the following filters in the stockscreener (click on the image below to go directly to the fundamental tab).

Revenue Growth 5Y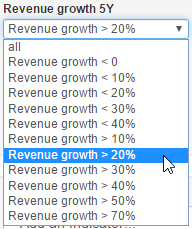 This concept really needs little explanation. It is about the average revenue growth a company realizes over the last five years. This figure tells you more than just looking at the amount of revenue in one year.  Based on the revenue growth in the past, investors can get an idea of the potential future revenue growth of the company.
Disclaimer 
We shouldn't really need to say this, but chartmill is a tool that helps you make your analysis. Your trading is your responsibility and nothing on this website should be interpreted as direct advice to buy and/or sell securities.
If you have any questions or comments, please visit our contact page.