New on Chartmill
Several new features were added to chartmill in the last week. An overview:
1) 15 minutes delayed Euronext data
While before the Euronext data was limited to EOD data, we now have data from all euronext stocks, coming in with 15 minutes delay time.
2) Intraday charts for Euronext
A consequence of the new data is that we now also have intraday charts(5,10,15,30 minutely + 1,2,4 hourly) for Euronext stocks.
3) Effective Volume Indicator for Euronext stocks
Another consequence of the new data is that the Effective Volume indicator is now also available for Euronext stocks.
4) Long intraday charts for all stocks.
While before intraday charts were limited to a couple of days data, we now allow displaying multiple months on half hourly, hourly, bi-hourly and 4 hourly charts. Check out this hourly chart of Facebook as an example.
5) Chartmill Relative Strength available as an indicator on the charts.
The historical value of the Chartmill Relative Strength value can now be displayed on a chart. This allows you to see whether the relative strength of the stock is actually increasing of decreasing over time. Check the chart of AVGO as an example.
6) Historical Relative Strength available in the screener.
We consider this a very nice addition to our screener. More info on Relative Strength can be found in this article. If you understand Relative Strength, you can see that a stock can also have a high relative strength number by making a single huge advance, but this does not necessarily makes the stock interesting to follow. We already have the concept of 'strong stocks' to handle this issue.
Historical Relative Strength however is another tool that does a great job in identifying the strongest stocks in the market. If you filter for instance for those stocks that have had a relative strength number above 90 or 80 for an entire year, you will get a list of the strongest stocks in the market.
The new filters can be found in the screener on the on the 'more technical' tab, next to the Relative Strength filters.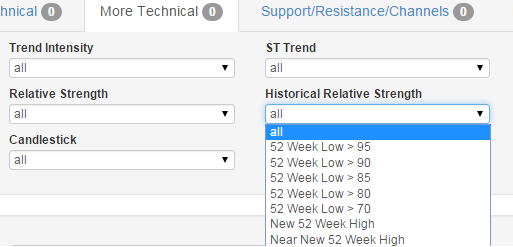 Check out the list of stocks with an historical relative strength above 90 as an example.