00 Analyzer Intro
The analyzer brings you fully automated technical (TA) and fundamental (FA) reports on any stock. These reports are updated daily. It also brings you trading ideas in topics like the Technical Breakout Setups of the day or Affordable Growth Stocks.
Introduction Video
You can open the analyzer by clicking on the 'analyzer' top level menu item.
Technical and Fundamental reports
The analyzer was created to make things as easy as possible. It will present a full technical and fundamental report, which contain the following components:
The Technical Report contains

The ChartMill Technical Rating, which is a result from an analysis of the short and long term trends of the stocks, as well as its relative strength in the market and sector.
The ChartMill Setup Quality Rating, which determines to what extend the stock shows a good trading setup pattern.
An analysis of the support and resistance zones.
A concrete trade suggestion when applicable.

The Fundamental Report contains:

An overall ChartMill Fundamental Rating.
The ChartMill Fundamental Ratings for the categories Profitability, Valuation, Growth, Health and Dividend. These ratings are the result of an evaluation of several fundamental ratios, which are also compared to the averages in the sector.
The TA report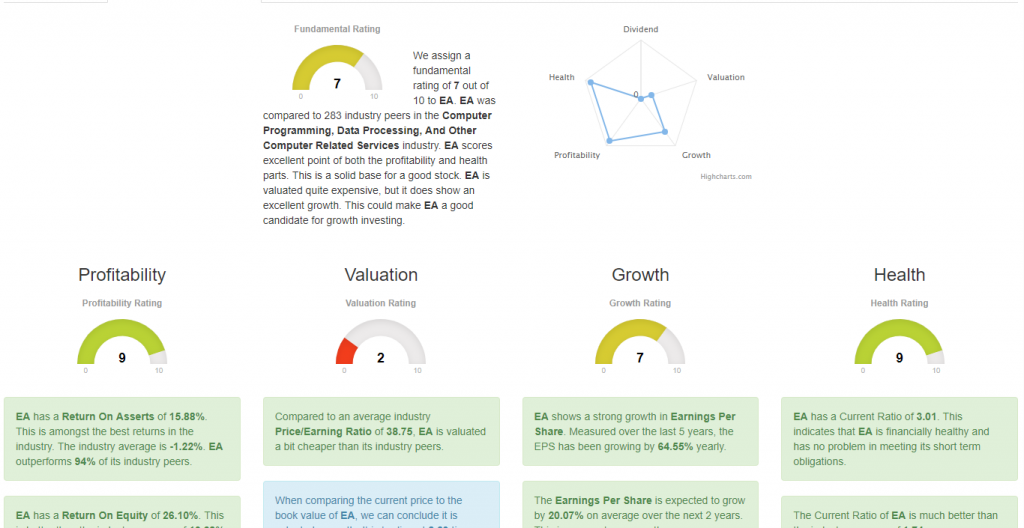 The FA report
Provided screens
The following screens are provided in the analyzer:
Technical Breakout Setups: A pure technical screen, presenting a list of the best breakout setup patterns available in the markets today.
Affordable Growth: A pure fundamental screen, presenting a list of stocks which are growing strongly, but still have a reasonable valuation. Besides this they are also filtered on decent health and profitability.
Decent Value Stocks: A pure fundamental screen, presenting a list of stocks which are priced cheap, but do have decent scores on growth, profitability and health.
Strong Growth Stock Technical Setups:  A mix of technical and fundamentals. These are the best growth stocks on the market showing a technical setup pattern at the moment.
In depth further reading
Some more articles on the Analyzer and its concepts can be found here: